Founder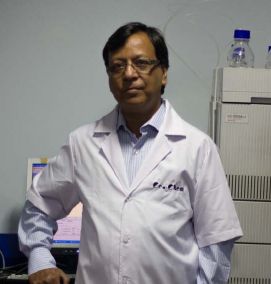 Our founder, Dr S.K Mitra is a medical graduate from Calcutta National Medical College & Hospital (West Bengal, India) and did his post-graduation from The Institute of Medical Sciences, Benaras Hindu University (BHU), Varanasi ( Uttar Pradesh, India).
Although his educational training was in medicine but he spent his life researching herbs and it has become his passion now. He is a recognized leader in the field of herbal research and development in pharmaceuticals & cosmeceuticals.
He was the Executive Director and Partner of Himalaya Drug Company for 22 years and then worked as Chief Executive Officer of Emami-Zandu group.
In 2012, Dr S.K Mitra was conferred with the prestigious Sir R.N Chopra Memorial life time achievement award for his contribution in the fields of herbal and pharmaceutical sciences
In 2015, he was decorated with the prestigious Prof. B. Mukherjee Memorial Oration Award for his contribution in the herbal and pharmaceutical research.
He carries the heart and soul of the company through his active research in herbal products
His academic interest lies in the area of cosmetic technology, pharmaceutical sciences, clinical pharmacology, in vitro biology, cell & molecular biology, pre-clinical studies & toxicology, formulation & development, phytochemistry, analytical chemistry, pharmacognosy applied botany & plant tissue culture.
He was a board member of several scientific advisory committees constituted by the Government of India.
He is on the advisory board of many scientific journals. He has more than 150 national and international publications in various journals of high repute.
Many students from reputed Indian universities have done research under his guidance in pursuance of their PhDs. He is a recognized PhD examiner in Rajiv Gandhi University of Health Sciences, Bangalore (Karnataka, India).
Dr S.K Mitra and his team have filed many global patents on molecules identified from plants.
By the way, he runs the company also.